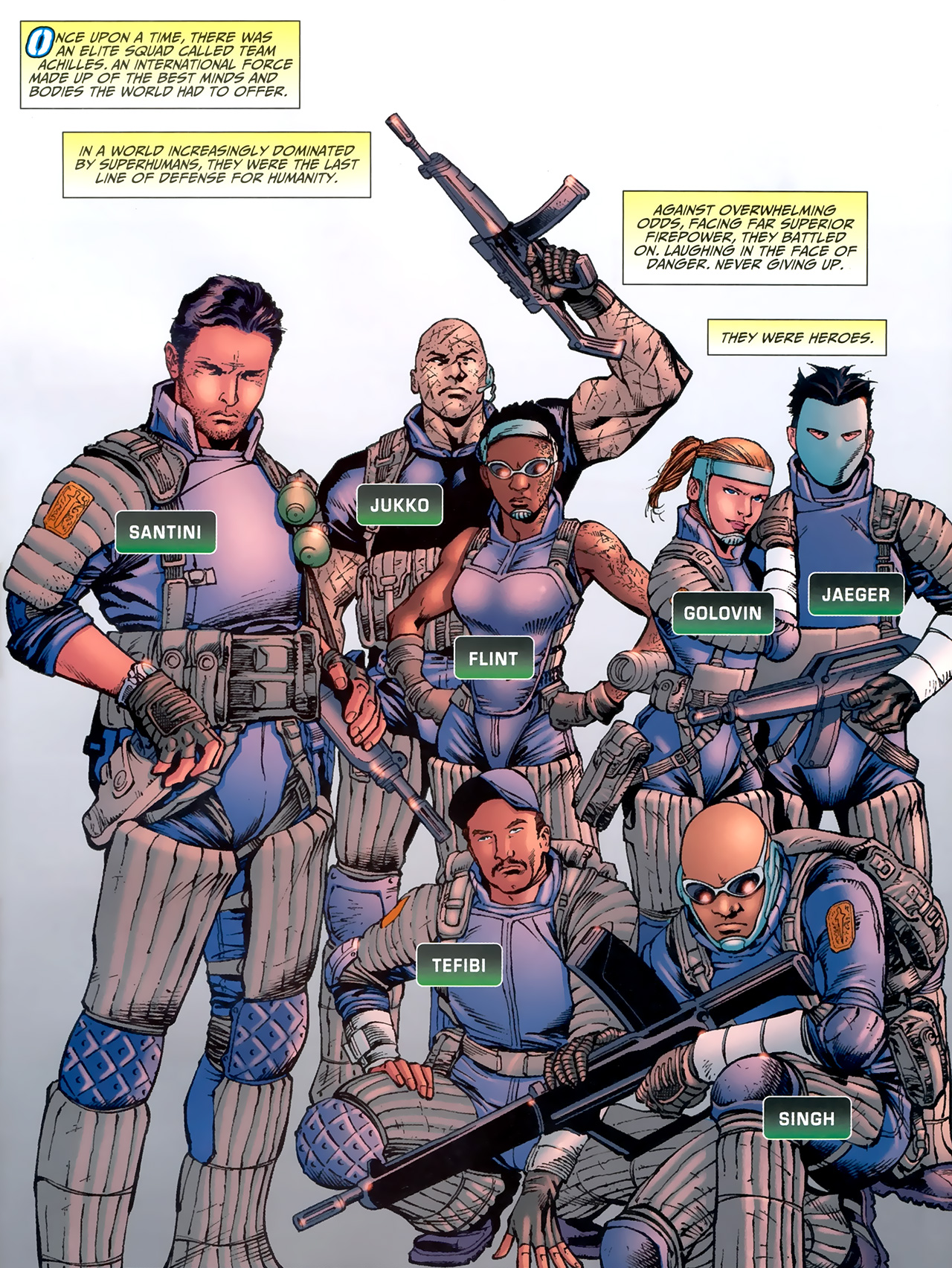 Wildstorm was one of my favourite things.
The Fate of Stormwatch: Team Achilles
Benito Santini
High Concept: Charming, manipulative and ruthless leader
Trouble: I have an artificial knee
Aspect 1: Sure, there might be a racist Senator in my Basement
Aspect 2: I had a plan for that
Aspect 3: Yes, you are expendable
FATERIP
F: Remarkable +3
A: Good +1
S: Good +1
E: Remarkable +3
R: Excellent +2
I: Remarkable +3
P: Excellent +2
Res: Remarkable [+3]
Pop: Excellent [+2]
PH: 1 2 3
MH: 1 2 3
Co: 2 4 6
K : 3
Skill Specialisations
+4 Contacts, Fighting [Martial Arts B, C, E], Notice [Investigate]
+3 Reason [Espionage, Law Enforcement, Military]
+2 Agility [Marksman]
Martial Arts A, D
Extras
Project Entry
An horrific other planet experiment in extermination by a psycopathic superman is also a handy as a vomit inducing teleport facility to get his team where they need to go.
FATE CORE
+5 Deceive
+4 Contacts, Notice
+3 Fight, Resources, Investigate
+2 Physique, Shoot, Will, Provoke
+1 Athletics, Burglary, Drive, Rapport, Stelath
Stunts
+2 to use knowledge of international law and related for political advantage
+2 to tactically leading a team taking down SPBs
Approaches
+1 Careful
+2 Clever
+1 Flashy
+2 Forceful
+2 Quick
+3 Sneaky
Weapon: 0
While writing FATERIP this was my idea as a possible option to use. If someone is employing a 'garden variety' weapon. Cheap handgun where those are commonly available, knife, blackjack, club, knuckledusters, rock etc then there is no damage bonus.
If using something out of the ordinary, like a large sword, machine gun, sniper rifle, battleaxe, electricity pole etc. then calls those Weapon: 1. Prepared intent to be nasty, if you like, as opposed to stumble into a brawl.
Physique, Fight, Will = Forceful
Stealth, Burglary, Deceive = Sneaky
Empathy, Resources, Crafts = Careful
Rapport, Provoke, Drive = Flashy
Lore, Investigate, Notice = Clever
Contacts, Athletics, Shoot = Quick
Athletics
Burglary
Contacts
Crafts
Deceive
Drive
Empathy
Fight
Investigate
Lore
Notice
Physique
Provoke
Rapport
Resources
Shoot
Stealth
Will
Alias
Frederick Ngebe Braumholstein
Avi Barak
Luis Cisco
Blake Coleman
Buzz Dixon
Flint
Galena Golovin
Jukko Hämäläinen
Trouble: A lot of dead Finns
Marie Grunier
Charles Pickney
Ajeet Singh
Khalid Tefibi
Jaeger Weiss
Trouble: Not In the Face